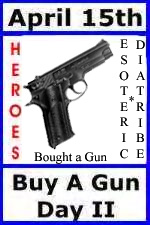 Tomorrow is Buy a Gun Day, where we simple folk across this great country celebrate our God given right, recognized in the Second Amendment of the Constitution, to purchase, own, and bear firearms.
Last year I signed on to support the
2005 Buy a Gun Day Blogroll
and I am pleased to announce that this year I decided not only to support the cause by adding my blog to the list, but this April I stepped up and bought my first firearm... a nickel plated Smith and Wesson Model 59 with Pachmayr grips and two clips. Last weekend I ran about a hundred rounds through the gun and I am please to say that she shoots as good as she looks. (I'll post a pic tomorrow as part of my Buy A Gun Day celebration)
For more on Buy A Gun Day, go
here
. For more on the history of Buy a Gun Day, go
Here
.