I did end up going to the Cheney Rally in Washington PA, hosted by my college alma mater. My thoughts were that I'd like to attend a Bush/Cheney event and I didn't think I'd get a better chance before the election, so I drove the 2 hours to Washington to see the Vice President speak... On my way home from the visit, while listening to the radio I learned that President Bush had been in my home state of Ohio (not a surprise) and that the President's rally was in Youngstown (Doh!). So instead of driving 20 minutes to see the President, I drove 2 hours to see the Vice President; but, the President wasn't speaking at my college Alma Mater... I console myself with that thought.
Anyway, the Bush/Cheney rally was worth the trip. I bought my first ever political pin, purchased my first ever political sign (and put the sign in the front yard), and was able to hear one of America's finest statesmen deliver a speech. To be honest I spent more time taking pictures than I did listening to the VP; but at this point I pretty well know the speeches by heart. Everytime something new is added to a speech it peaks in interest, but most of the lines are recycled.
Click
here
for a transcript of what the vice president said.
The atmosphere inside the Henrey Memorial Center was bordering on rock concert. Somewhere between 2,000 and 2,500 people showed up to see the VP.
There were people shoulder-to-shoulder in every direction. Everyone had signs, flags, pom-poms, etc and random chants of "4 more years" would errupt from the crowd throughout the rally.
Having arrived shortly before the doors opened, my group was able to get a pretty good spot towards the front

(between 3 and 6 rows back).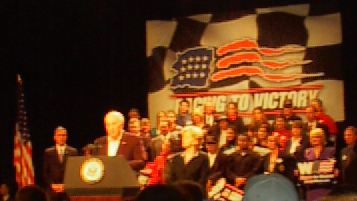 I have much better pics of the VP but I am waiting for the film to develope.
I couldn't figure out how to get the digital camera to zoom in any closer on the VP.
I also can't figure out how to get the video pics I shot to display as a moving pic on a PC.
The most interesting thing Cheney said, which was fairly new to his speeches, was his refutation of the CBS/NYT's story about missing explosives.


Cheney said:
John Kerry will say and do anything to get elected. Most recently, he's been charging that American forces did not do enough to protect a weapons facility in Iraq, with the result that some 380 tons of explosives disappeared. But John Kerry doesn't know if those explosives were even at the weapons facility when our troops arrived. The charge he is making is so wild that his own advisors are saying they don't know if it's true. But John Kerry is not a man to let a shortage of facts bother him. (Laughter and applause.)

He rushed out to put up a TV ad saying there was a failure to secure these explosives, when he has no idea if they were even there to be secured. The title of John Kerry's TV ad is Obligation, which is pretty ironic if you think about it: The first obligation of a Commander-in-Chief is to support our men and women in combat. (Applause.) Which John Kerry failed to do a year ago when he voted against the funding they needed, and which he is failing to do now by making accusations without knowing the facts. Our troops ought to be praised for the 400,000 tons of weapons and explosives they've captured. (Applause.) At the same time, they've been building schools, training Iraqi forces, fighting an insurgency, they've seized 400,000 tons and are in the process of destroying them. These brave men and women deserve better than to have their actions called into question by a political candidate who is so ambitious, he can't wait for the facts. (Applause.)
One thing the official transcript doesn't show is that VP Cheney, a guy who probably doesn't smile often enough, broke into a big grin everytime the crowd would chant 4 more years.
That was probably my favorite part of the rally, seeing the Vice President break into a spontaneous and genuine smile when the crowd would break into yelling 4 more years.
One of the more suprising parts of the VP's speech involved an unexected (for the VP, at least) boo from the crowd. Every speaker at the event brought up the fact that Arlen Specter is up for election. Every mention of Specter brought about a boo from the crowd. Apparently no-one told the VP about the anti-Specter crowd, because Cheney brought him up:
The President and I are delighted to be part of a great Republican ticket here in Pennsylvania this year. I want to thank Congressman Tim Murphy for his kind words and the great leadership he provides. (Applause.) And I also want to put in a good word for Senator Arlen Specter, although he couldn't be here today.

AUDIENCE: Booo!

THE VICE PRESIDENT: This is a tough crowd. (Laughter and applause.)

AUDIENCE MEMBER: We love you, Mrs. Cheney. (Applause.)

AUDIENCE MEMBER: (Inaudible.)

THE VICE PRESIDENT: You're playing havoc with my concentration. (Laughter.)
Arlen Specter is the most liberal Republican Senator... over his senate tenure (which spans Senator Kerry's entire career) he voted with Kerry an amazing 60% of the time. Specter doesn't have a conservative base in PA. The conservatives that want Bush in want Specter out. I was wracking my brain trying to determin why the President would back Specter, and then it came to me... if he supports Specter, he doesn't lose his conservative base, he just annoys them a little. If he doesn't support Specter, Specter might then try to get his base to vote for Kerry. In a tight election, where every vote in PA is going to be crucial; the President can't afford to not support Specter.
Oh, I wanted to mention the protestors. As I said before, at least 2,000 supporters showed up to see the VP, and as many as 2500 with a generous estimate. People were packed into the building, some lined up where they couldn't even see the VP, just hear the speech. We contrast the thousands of Cheney supporters with between 30 and 50 anti-Bush/Cheney protestors who showed up chanting "hey hey, ho ho, Bush-Cheney got to go" and "one more week! one more week!" I was pretty suprised to find no Associated Press pictures of the Bush Cheney Crowd at the event, but there were several pics of the protestors. I took a few of my own:
I was told at one point the faculty outnumbered the students, which would not suprise me at all. Some of the older folks in these pics were, at one time, my professors. I have nothing bad to say about these folks... they are a bit misguided, but are, for the most part, really nice people. Behind the shrill voices screaming for "Regime Change" are people with good hearts... It saddened me to see some of them out there. What didn't sadden me was learning that some of the more liberal professors wouldn't allow their students out to see the VP. I know of several students who were told categorically that they could not go to see the VP speak. I also know that the same professors would have cancelled classes if Kerry or Edwards had shown up.
I'll throw up some new pics when I get more developed.
Originally Posted on Oct 28, 2004 11:49 AM