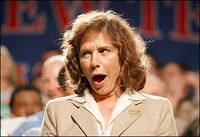 Sep 20, 2004
From the
New Yorker
:
Despite her linguistic prowess and her worldliness, Heinz Kerry has, at times, a deaf ear for the nuances of slang, code, condescension, and vulgarity in English—for the emotion of the language. "There are these bizarre moments that make you shudder," the Kerry adviser said. "Like calling herself African-American to black audiences." She dismissed voters skeptical of her husband's health-care proposals as "idiots," and, in a television interview with a Pittsburgh anchorwoman, employed the word "scumbags" to describe some of her detractors.
Sep 16, 2004 -
AP

Teresa Heinz Kerry makes no apologies for speaking her mind on the presidential campaign trail.

"Someone who's 65 like me being called 'opinionated' because I take a stand and have an opinion? Give me a break!" Heinz Kerry told about 60 mostly black political, community, and business leaders at a library in the city's blighted Homewood neighborhood on Thursday.

...

During the trip, she's fought off a stomach ailment to march in Labor Day parades in Philadelphia and Pittsburgh, and drew headlines by saying "only an idiot" wouldn't support her husband's health-care plan.
E*D Flashback
- August 3rd 2004 - THK said:
"They want four more years of hell," she said of the Bush supporters who could be heard chanting "Four more years! Four more years!"
E*D Flashback
- July 26, 2004 -
Heinz Kerry attended a Massachusetts Statehouse reception Sunday night for fellow Pennsylvanians, telling them, "We need to turn back some of the creeping, un-Pennsylvanian and sometimes un-American traits that are coming into some of our politics." She criticized the tenor of modern political campaigns without being specific.

Minutes later, the Tribune-Review's Colin McNickle questioned Heinz Kerry on what she meant by the term "un-American," according to a tape of the encounter recorded by Pittsburgh television station WTAE.

Heinz Kerry said "I didn't say that" several times to McNickle. She then turned to confer with Pennsylvania Gov. Ed Rendell and others. When she faced McNickle again a short time later, he continued to question her, and she replied: "You said something I didn't say. Now shove it."
UPDATE!
It turns out the New Yorker was wrong. Heinz Kerry was quoted entirely out of context and was instead referring to public servants... I'm not sure if that makes things better or worse for Heinz. Here is the quote:
"I believe there is a nobility in public service. I believe every citizen can be a public servant. And should be," said Heinz Kerry.

Sally Wiggin asked, "Do you think some of the nobility has gone out of public service?"

Heinz Kerry said, "Oh, there is a lot of scumbags everywhere. Not just in politics. In everything. There are a lot of immoral people everywhere.
Clearly the New Yorker misled readers of that article. In a way, calling our public servants - the police, our firemen, our judges and district attys, and virtually any city employee - calling these people scumbags is far worse than calling her critics scumbags; however, it seems she wasn't really talking about all of them, and who can argue that there aren't a few bad apples here and there? So take from this what you will...